TableTalks Peer Learning Groups & BoardTalks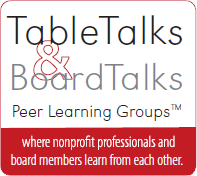 where nonprofit professionals learn from and support each other
Spring 2018 Schedule
Select topic to expand
What are TableTalks—Peer Learning Groups™?
Described by participants as 'creative, stimulating and supportive', TableTalks—Peer Learning Groups™ are facilitated, personalized peer-learning groups that are comprised of 10 to 14 participants who meet monthly as a cohort for three hour sessions. These supportive groups are facilitated by Janet Boguch and her experienced TableTalks™ Facilitator Team. The TableTalks™ format is designed to meet the needs of the participants in a collegial atmosphere. TableTalks™ is a forum for discussing practical solutions and brainstorming ideas in a confidential, safe and comfortable setting.
Sessions are held at Non-Profit Works, a comfortable space on Capitol Hill/Seattle; parking is accessible and free! The bus stops one block away.
Enrollment is limited and sessions fill quickly.
$395 ($385 for returning registrants) .
$375 for early registration (paid by January 20)
TableTalks™  includes access to cohort listserv, materials, refreshments and monthly sessions. 
» Register online
» Download registration form (PDF)
» Download Spring 2018 schedule (PDF)
How do I register for TableTalks™?
Enrollment in each cohort is limited. To register, please  sign up online
or  download registration form (PDF).
See TableTalks™ registration fees above. No make-up sessions. No refunds.
Registration includes: monthly 3-hour sessions; confidential listserv and resource sharing between sessions; hand-outs; refreshments.
For more information, email Janet Boguch.
Each cohort uses its own listserv to communicate and share resources between monthly sessions.
At each monthly session, specific topics are based on participants' requests. Examples have included: Time Management; Effective Teams; Board Evaluations; Burn-out; Getting Started in Planned Giving; Developing a Philanthropic Organizational Culture, Useful Social Media Networking Strategies, among many others.
The cohort group often selects a book to read and discuss. Examples have included: Susan Scott's Fierce Conversations, Daniel Pink's Drive, Heath Brothers', Switch, John Gardner's On Leadership, Lencioni's Five Dysfunctions of Teams; Malcolm Gladwell's Tipping Point, Jim Collin's Good to Great, Penelope Burk's Donor Centered Fundraising, articles from the Harvard Business Review and many others.
Background
In 1990, Janet Boguch – Principal of Non-Profit Works since 1988 – founded TableTalks—Peer Learning Groups™ to meet the needs of nonprofit professionals who wanted to learn from each other, gain new knowledge and skills and to discuss timely issues and topics relevant to managing and leading nonprofit organizations. There are now several peer learning groups tailored to particular professional roles and functions, as well as cohorts tailored to board members and board officers.